MILLION DOLLAR BABY
Genesis Cinema, London.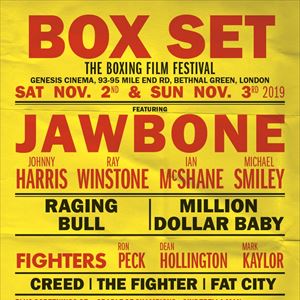 Film Screening followed by Q&A hosted by Geraldine Davies (WBC) featuring Jane Couch MBE, Hannah Rankin, Melissa Takimoglu and Roseanna Cox
Under 12s must be accompanied by an adult. We cannot issue refunds to under 12s who are not accompanied by an adult.
More information about MILLION DOLLAR BABY tickets
BOX SET: THE BOXING FILM FESTIVAL presents MILLION DOLLAR BABY
Starring: Hilary Swank, Clint Eastwood, Morgan Freeman.
Director: Clint Eastwood // 132 minutes
Q&A with Lesley Sackey, Roseanna Cox, Meredith Ostrom, Samm Mullins
Geraldine Davies - UK Liaison for the World Boxing Council
Jane Couch MBE - The UK's first officially licensed female boxer and former World Champion
Melissa Takimoglu - Director of MeltPr, Media and PR sports agency.
Hannah Rankin - current World Champion boxer
Roseanna Cox - former professional boxer


Nominated for seven Oscar's and winning Best Picture, Best Director, Best Actress and Best Support Actor, Million Dollar Baby is a masterpiece which tears wide open the debate about female boxing.
"Staying at the top of his game when most of his contemporaries have long since hung up their gloves, Clint Eastwood delivers another knockout punch with "Million Dollar Baby." Variety Magazine
"Frankie Dunn (Clint Eastwood) is a veteran Los Angeles boxing trainer who keeps almost everyone at arm's length, except his old friend and associate Eddie "Scrap Iron" Dupris (Morgan Freeman). When Maggie Fitzgerald (Hilary Swank) arrives in Frankie's gym seeking his expertise, he is reluctant to train the young woman, a transplant from working-class Missouri. Eventually, he relents, and the two form a close bond that will irrevocably change them both.

Even before Clint Eastwood's Million Dollar Baby won the Oscar for Best Picture, it united critics across the spectrum, from middlebrow to aesthete, in almost universal praise. It was "nearly flawless," "a breathtaking human drama," "the cinematic equivalent of Hemingway." The Atlantic