RAGING BULL
Genesis Cinema, London.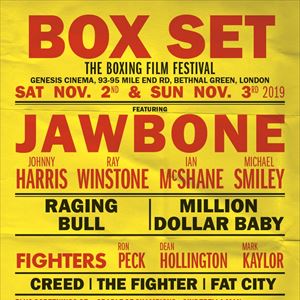 Film Screening followed by Q&A hosted by Ronald McIntosh featuring Barry Jones, Matthew Macklin, Glenn McCrory
This event is for over 18s only - No refunds will be issued for under 18s.
More information about RAGING BULL tickets
BOX SET: THE BOXING FILM FESTIVAL presents RAGING BULL (1980)
Starring: Robert De Niro, Cathy Moriarty, Joe Pesci.
Director: Martin Scorsese // 129 minutes
Q&A hosted by Ronald McIntosh featuring Barry Jones, Matthew Macklin, Glenn McCrory and Spencer Fearon
Ronald Mcintosh - BBC, ITV and BT Sports commentator
Glenn McCrory Former World Boxing Champion and now a key member of the Sky Sports boxing team
Barry Jones Former World Boxing Champion and now a key member of the BT Sports boxing team
Matthew Macklin - Founder of MTK Global and former British and European Boxing Champion
Spencer Fearon - Boxing promoter and media personality
Nominated for eight Oscars, with Robert De Niro winning for Best Actor, 'Raging Bull' is cited by many as being the Best Film of the 80's and indeed the best film ever made
"This is not a film about boxing. This is a film about the human condition and about cinema itself." Empire Magazine
"It starred Robert De Niro, electrifyingly and horribly charismatic in the role of 1940s middleweight boxing champ Jake La Motta. In the ring, he was a graceless brawler, outside it a repugnant bully and wife-beater who was in thrall to the mob. The film actually suppresses many of the nastier aspects of La Motta's life and essentially takes him at his own lenient estimation of himself, emphasising what was allegedly his initial, pig-headed resistance to gangsters' parasitic involvement in his career. The effect is to combine stunning scenes of brutality and self-destruction with a lethal, even outrageous sentimentalism and self-pity. It's all captured in dreamlike, pin-sharp monochrome cinematography, stark images reproduced like a Weegee crime scene. The result is operatic and mad and compelling. The fight sequences themselves, with the camera swirling and swooping around the ring, and the soundtrack sometimes gulping out into silence and sometimes moaning with weird half-heard animal noises, are unforgettable: an inspired reportage recreation in the manner of a Life magazine shoot, which also looks like expressionist newsreel footage of a bad dream." The Guardian